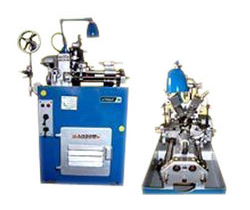 We have a comprehensive range Single Spindle Automat Lathe(AM 25) which are extremely efficient when it comes to ease of operation and smooth error free turning applications. This range of automat are featured with strong holding force and reduced chucking time. These machines are great for special turning applications.
Our versatile range of Arrow 25 machines is perfect for manufacturing Single Spindle Automat which have great scope for use in a host of applications in diverse industries. The raw materials we use for manufacturing round,square,and hexagonal shape of components are proven quality ferrous and non ferrous materials which are the best that is available in the industry.
These lathe machines are fitted with the following parts:
Cabinet - Manufactured from MS 10mm steel, duly reinforced to avoid vibration and is fabricated to sustain accuracy.
Spindle - Fabricated from case hardened steel by undergoing forging and precisely hardened to sustain 5 micron accuracy. These lathe machines are manufactured utilizing imported bearings and all the threads are grounded in the spindle assembly.
Guide Shafts - We manufacture guide shafts are hardened, grounded and hard chrome done for prolonged life.
Slides - Manufactured from spheroid graphite iron and machined and scrapped to prevent wear and tear.
| | |
| --- | --- |
| Specifications | Arrow 25 |
| Max Bar Capacity: | |
| Round | 25 mm |
| Hexagon | 22 mm |
| Square | 18 mm |
| Cross Slide Stroke | 22 mm |
| Max Turing Length with L.T Slide | 70 mm |
| Max Tail Stock Travel | 100 mm |
| Max Capacity of Tail Collet | 13 mm |
| Spindle Speeds (12 Steps | 550-4000 RPM |
| Production Rate | 28-2100 Pcs/Hr |
| Work Spindle Motor | 1.7/2.2 HP |
| Feed Drive Monitor | 0.5 HP |
| Net Weight (Approx.) | 700 kg's |
| Packing Dimension (mm) | 1300 X 720 1900 |